Destination Stewardship
The following conversation took place between Travis Bays and Spencer Dunlap—two surf instructors at Bodhi Surf + Yoga, a Center for Responsible Travel (CREST) Platinum Sponsor tourism business located in Bahia Ballena, Osa, Costa Rica.
Operating within the Marino Ballena National Park, a protected marine ecosystem that conserves over 12,000 acres of ocean and 4,000 acres of beach, Bodhi Surf + Yoga's week-long surf curriculum is geared toward providing guests with a nature-based educational experience that will cultivate a deeper understanding and appreciation for the environment.
In this conversation, Travis and Spencer discuss the unique opportunity surf schools have to utilize the learn-to-surf experience as a means of inspiring a new wave of environmental stewards.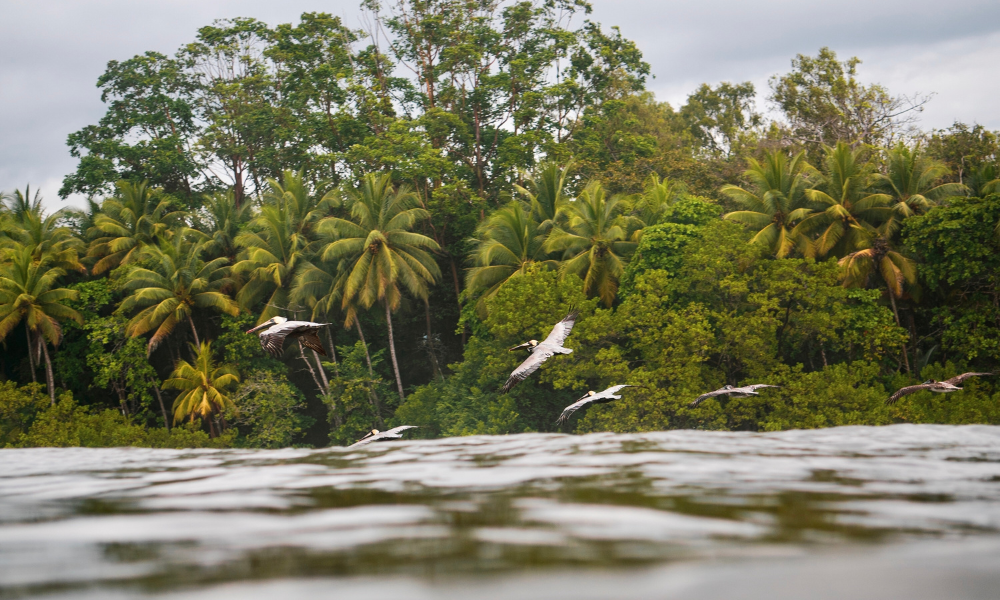 Spencer: First of all, why is it important for surfers to care about ocean health?
Travis: Well, if we examine this question from an anthropocentric perspective, it circles back to ensuring your own personal health—the health of the surfer. From a selfish perspective, having a clean, pollutant-free environment to ride waves in should be a priority for every surfer.
Spencer: In other words, if we're trying to inspire more people to protect the ocean, it helps if they already have skin in the game.
Travis: Exactly. At the end of the day, you're much more likely to change your attitude and behavior if you fall in love with something and have a stake in preserving it.
Take people that learn to scuba dive, for example. Most new divers will become conservationists because they go and see the coral reef up close and personal, they interact with the marine life, they fall in love with the activity, and are ultimately inspired to protect that ecosystem so they can continue to enjoy it. The same should be true for people learning how to surf.
Spencer: I think you and I have this unique perspective as surfers from San Diego, California, where many of the beaches are crowded and overdeveloped, and that's why we're so drawn to the thriving ecosystem of the Marino Ballena National Park. We see that a beautiful beach like this exists and we have a vested interest in keeping it pristine.
Travis: Growing up in San Diego, I remember a time when surfers were advised to stay out of the water for 24 hours after heavy rainfall so they wouldn't get sick from the runoff pollution. Several years later, 24 hours turned into 48 hours…and who knows what the recommendation is now. The point is, where did we go wrong?
Surfing at Playa Chaman (within the Marino Ballena National Park), we're lucky that the land abutting the ocean is minimally developed and less susceptible to contamination.
Spencer: That's right. Part of protecting the ocean is also protecting what's upstream from it. Many of our surf students at Bodhi Surf + Yoga come from landlocked areas where they may not have the same innate drive to care for the ocean as you and I, but they can still protect the ocean by cleaning up their own backyard, so to speak.
Travis: Harnessing the stoke that these people feel when they're learning to surf with us and motivating them to go back to their communities where they can take action is what I want to see Bodhi Surf + Yoga improve upon: How do we send John from Texas back to his community inspired to minimize his impact on the planet?
That's something we can influence other stakeholders in the surf tourism industry to start doing as well. Wouldn't it be great if more surf schools were able to leverage the learn-to-surf experience to inspire environmental stewardship?
Spencer: When you first started teaching surf lessons, was environmental stewardship part of the agenda?
Travis: I recently came across the first surf lesson brochure I created back in 2003, and found that one of the main bullet points had to do with creating a "complete" surfer—someone who takes care of the environment.
However, it wasn't until I came here to Costa Rica as a Peace Corps volunteer and experienced the vibrant ecosystem of Bahia Ballena that I recognized the real value in using surfing as a force for good. That's when I decided to make environmental education a key component of our surf curriculum.
Spencer: Have you noticed ways in which surf tourism has had negative social and environmental impacts in Costa Rica?
Travis: Definitely. I think the search for novel, uncrowded surf breaks is something that is inherent in many surfers, and the drive to "discover" the best waves in the world is a natural tendency. What has happened though, is that surf media and popular culture have played a role in making this discovery much easier.
Unfortunately, these newfound waves are often located in developing coastal communities that don't have the proper infrastructure in place to accommodate the rapid influx of tourism that inevitably follows.
Not only can this rapid influx of tourism lead to overcrowding and environmental degradation, but it can also lead to gentrification as a result of foreign investment. That's certainly happened here in Costa Rica.
In fact, we've had several guests fall in love with Bahia Ballena during their stay at Bodhi Surf + Yoga, so much so that they subsequently bought property here. In a way, we have contributed to this very problem.
Spencer: When you critically examine the world's most popular surf film, The Endless Summer, you find that the underlying theme of the movie is, in fact, American colonialism.
The ability to chase waves around the world is a carbon-intensive luxury that relatively few people have, and yet "the search" is a theme that has been propagated by the surf industry to generate profit over many decades.
I often struggle with this unfortunate reality in my own personal surfing experience. My love of nature and surfing brought me here to Bahia Ballena, where I have the unique privilege of riding uncrowded waves in a protected marine ecosystem, and although I care deeply for this environment and the surrounding community, I have played a role in its gentrification.
We have seen many affluent foreigners move to the Costa Ballena region in recent years, making it harder for local Costa Ricans to afford the rising cost of living. Eventually, this town may reach a tipping point where there are more expats living here than locals.
Travis: Right. As much as I'd like this town to remain small and beautiful, who am I to tell the next tourist who wants to move down here, "No you can't. We don't want you here."?
That said, we can still play a positive role in our flourishing community of expats and locals by participating in the democratic process and ensuring that this town continues to grow in a balanced and sustainable way, especially in the face of new economic development.
Spencer: How can surf schools like Bodhi Surf + Yoga participate in the surf industry in a way that promotes environmental stewardship?
Travis: Surf tourism depends greatly on the health and vitality of coastal ecosystems, and surf schools will continue to thrive if, and only if, these ecosystems remain healthy and continue to attract would-be surfers.
If we want to scale this idea that surfing can be used as a force for good, then surf schools will play a vital role in educating new surfers to participate in the industry in a more socially and environmentally responsible way.
If we look at the surf student as a blank slate going through the surf school educational process, surf instructors are responsible for transmitting the proper knowledge and enthusiasm to inspire these students to become environmental stewards at the end of this transaction.
Therefore, an organization like the International Surf Association (ISA)—responsible for training and certifying the world's best surf coaches and instructors—needs to move toward building environmental education best practices into their surf curriculum. That way, newly certified surf instructors walk away from the ISA Coaching and Instructing Program with a toolkit of activities they can incorporate in their surf lessons that will provide "aha" moments for their students.
An example of this could be drawing a square in the sand and throwing in items found on the beach that belong in that ecosystem, and items that don't belong. And then there's a conversation to be had between student and instructor: How are the things that don't belong in this square getting here? Are you a part of the problem or part of the solution?
However, if the ISA is unable to provide this training, then other organizations like Surfrider Foundation, Save the Waves, or Surfers Against Sewage should look at ways to support surf schools in promoting environmental stewardship.
If I were the CEO of one of these large surf-related nonprofits, one of my goals would be to get any new surf student to become a member/supporter of my organization. Surf schools then become a vital pathway to facilitate this membership by introducing and informing their students about these nonprofit organizations.
For example, a surf student comes to Bodhi Surf + Yoga, they take a surf lesson, and then afterwards, if they become a member of Surfrider, Save the Waves, or Surfers Against Sewage, that's a clear indicator of success. Once the surf student gets involved with one of these organizations, they are much more likely to participate in environmental activism.
Spencer: Another idea would be to create an educational booklet that can be shared with surf students post-lesson, such as a sustainable surf gear purchase guide.
After taking a few lessons, most surf students will be ready to start surfing on their own, which means they will need to buy the necessary equipment to do so—surfboard, fins, leash, wax, wetsuit, and so on.
This e-booklet would educate new consumers about the ways in which the surf industry does harm to the environment (through its traditional supply chain of carbon-rich petroleum products and toxic chemicals), and then steer them to more eco-friendly alternatives.
Now, instead of buying a cheaply-constructed foam surfboard destined for the landfill in six months, the responsible surfer is motivated to buy an ECOBOARD built to last several years.
Travis: Yes. As a surf school, we must ask ourselves the following question: Are we putting these new surfers on the path to become regular consumers of a massive multi-billion dollar surf industry that puts all kinds of crap in front of their faces, or are we creating responsible environmental citizens that are going to stand up for ocean health?
If we want our students to choose the second path, then we must provide them with adequate tools to make better decisions.
Spencer: Lastly, what tools do we have to promote social inclusivity in surfing?
Travis: Well, I think we're definitely on to something with the bodysurfing lessons we've been teaching, but maybe you want to speak more about that?
Spencer: Yes, definitely. Surfing is an expensive sport that has a tradition of being quite discriminatory, especially toward women and people of color.
Bodysurfing, on the other hand, is a simple and accessible form of wave-riding that is available to a broader range of individuals because there is little to no equipment involved. Anyone with basic ocean knowledge can walk out to waist-deep water and have an amazing time frolicking in the waves with nothing more than their own body.
Furthermore, what we've seen over the years is that bodysurfing leads to a deeper connection between our students and the ocean because there is no board separating them from the waves—they are literally immersed in nature.
In the future, I'd like to see more surf schools and surf-related nonprofits incorporate bodysurfing in their learn-to-surf curricula, as it's a sure-fire (and inexpensive) way to get someone to interact and fall in love with Mother Ocean, regardless of their socioeconomic status.
Travis Bays
A former Peace Corps Costa Rica volunteer who spent two years of service in Bahia Ballena, Costa Rica, Travis is the founder and owner of Bodhi Surf + Yoga, an award-winning 1% for the Planet and B Corp Certified surf and yoga camp. 
In addition to managing the daily surf lessons at Bodhi Surf + Yoga, Travis is a co-founder of the SOMOS community foundation and is the Central American Ambassador for the Transformational Travel Council. He is a committed husband and father, ardent surfer and ocean lover, and enjoys incorporating his passions into his wide array of roles at Bodhi Surf + Yoga.
Spencer Dunlap
After graduating from the University of San Diego with a Bachelor's degree in environmental studies, Spencer moved to Costa Rica where he has worked as an ISA certified surf coach, environmental consultant, and blog writer for Bodhi Surf + Yoga since 2019. 
Spencer helped Bodhi Surf + Yoga become the first surf and yoga camp in the world to achieve carbon neutrality in 2019. The following season, he helped create Bodhi Awaken, a two-week ocean awareness retreat that features both bodysurfing and board-surfing. Spencer has written over 50 articles about surfing, bodysurfing, nature, and environmentalism, published in various media outlets such as The Inertia, Elephant Journal, CREST, and Medium.